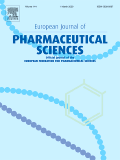 European Journal of Pharmaceutical Sciences
Official Journal of the European Federation for Pharmaceutical Sciences (EUFEPS)
The journal publishes research articles, review articles and scientific commentaries on all aspects of the pharmaceutical sciences with emphasis on conceptual novelty and scientific quality. The Editors welcome articles in this multidisciplinary field, with a focus on topics relevant for drug discovery and development.
More specifically, the Journal publishes reports on medicinal chemistry, pharmacology, drug absorption and metabolism, pharmacokinetics and pharmacodynamics, pharmaceutical and biomedical analysis, drug delivery (including gene delivery), drug targeting, pharmaceutical technology, pharmaceutical biotechnology and clinical drug evaluation. The journal will typically not give priority to manuscripts focusing primarily on organic synthesis, natural products, adaptation of analytical approaches, or discussions pertaining to drug policy making.
Scientific commentaries and review articles are generally by invitation only or by consent of the Editors. Proceedings of scientific meetings may be published as special issues or supplements to the Journal.
Editor-in-Chief: Martin Brandl
For more information please see the journal webpage:
https://www.journals.elsevier.com/european-journal-of-pharmaceutical-sciences